Welcome to My-Mu.com


James Churchward wrote a series of books on the Lost Continent of Mu beginning in the late 1920s. He wrote that he had been studying the subject since the 1860s when he was in India. He stated that the now-lost Pacific continent of Mu maintained a high level of civilization and colonies around the world. He also stated that Mu was the birthplace of the human race and that cataclysmic events sunk Mu beneath the waves thousands of years ago.

What most people don't know is that James was also an Engineer, or that he wrote and illustrated books and articles for Sportsmen.

Now that you are here, please take the opportunity to look over the Blog Entries of Note, our Podcast, a list of James works (including articles that have remained unseen for over eighty years,) the timeline of James' life we have composed, or our Book Store with other materials hidden from public view since the 1920s.

We also have a mailing list on the research for the Great Uighur Empire that James wrote about in the 'Children of Mu' and another that will keep you up to date on the state of the research, aptly called the Announcements List.

Subscribe to the newsletter and receive a free pdf copy of the index to James Churchward's 1926 book, "Lost Continent of Mu Motherland of Man"
Current Podcast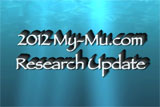 Podcast #31
2012 My-Mu.com Research Update
An update for My-Mu.com research for 2012...more
Visit the Podcast Archive
---
The Search Continues for William Niven's Buried Cities
(parts 1-4)
When William Niven closed up shop of his archaeological discoveries in Mexico City to move back to the United States, the entire contents of his store was carefully placed in wooden boxes for the trip...more

Visit the Blog Entries of Note